Houston Head-On Crashes Lawyer
Were you recently involved in a head-on collision in Houston, TX? Do you need help paying for your medical bills and making up for the income you've lost because of your catastrophic injuries? If so, contact Attorney Brian White Personal Injury Lawyers. Our car accident attorney in Houston, TX can help you file an injury claim and demand compensation from whoever caused your car accident.
When you hire Attorney Brian White Personal Injury Lawyers, you'll benefit from a law firm with more than 45 years of collective experience. And, Brian White is Board Certified in Personal Injury Trial Law – something only 3 percent of all injury lawyers in the state of Texas can say. That means that you'll be represented by attorneys who know what it takes to get the results you deserve after an unexpected crash in Houston.
Contact our Houston law office at (713) 500-5000 to schedule a free consultation. We'll gladly review your case, explain your potential legal options for recovery, and answer any questions you have. You'll have a limited window to file an injury claim, so call us to get started today.
What is a Head-On Collision?
A head-on crash, which is also called a frontal collision, occurs when the front-end of a car crashes into an object. Head-on crashes can involve a single vehicle or two vehicles.
In a single-vehicle head-on collision, the front end of a moving vehicle will collide with a fixed object, such as a building, light fixture, or parked car.
Sometimes head-on collisions involved two cars. Typically, this happens when two vehicles traveling in opposite directions crash directly into one another.
Following a head-on collision, one or both of the vehicles involved (depending on the crash) might tip or rollover.
How Common Are Head-On Crashes in Houston?
Few accidents are more terrifying and catastrophic than head-on collisions. That's because, according to the Insurance Institute for Highway Safety (IIHS), head-on crashes cause the most car accident fatalities every year. In 2018, head-on crashes were responsible for 56 percent of all car accident deaths across the United States.
According to the Texas Department of Transportation, there were a total of 64,126 car accidents in Houston in 2018. 189 of those accidents were fatal. So, based on the IIHS data, that means that 105 of those fatal crashes were probably head-on collisions. That's roughly 2 fatal head-on collisions every week in Houston. When you take into account that not all head-on crashes are fatal, it means that head-on crashes are probably very common across the city.
What Causes Head-On Car Accidents?
Front-end collisions can, and do, happen for a variety of different reasons. However, leading causes of head-on collisions include:
Distracted Driving: Drivers who aren't paying attention are more likely to veer off of the road or into the path of oncoming traffic.
Fatigued Driving: A driver who is drowsy and fighting to stay awake might not be able to steer properly.
Passing Aggressively: Sometimes drivers are impatient and eager to pass slower vehicles. On roads that only have one lane in each direction, this requires traveling in the "wrong" side of the road for a period of time. Head-on crashes often occur when drivers are attempting to pass slow-moving vehicles, but fail to accurately judge how much time they have to do so.
Speeding Around Bends or Curves in the Road: Drivers should slow down, not speed up or maintain speed, when approaching a bend in the road. However, some drivers take turns too quickly and, in turn, veer over the center line.
Drunk Driving: A drunk driver is less capable of maintaining their lane of traffic than a sober driver. It just takes a few seconds to cause a crash.
Wrong-Way Driving: Houston has some one-way streets. If a driver makes a wrong turn or attempts to drive the wrong way down a one-way street as a shortcut, a head-on collision can happen easily.
If you've been injured in a head-on collision and someone else is responsible, contact Attorney Brian White Personal Injury Lawyers to find out how our Houston personal injury lawyers might be able to help you hold them accountable.
Common Injuries Resulting From Head-On Collisions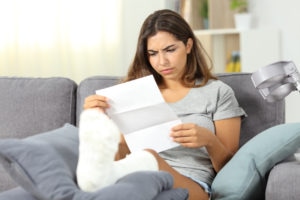 Head-on collisions can be deadly. However, not everyone who is involved in a front-impact crash will die. Many will sustain injuries that fundamentally change the course of their lives forever.
At Attorney Brian White Personal Injury Lawyers, we proudly stand beside these crash victims every day and help them pursue compensation for all of their injuries.
We represent head-on crash victims struggling injuries including:
Following an accident, make sure that you seek medical attention right away. Prompt medical care can be the difference between a moderate injury, a severe injury, and death.
We understand that your injuries might be too severe to give you the flexibility to visit our Houston law firm for a free initial consultation. So, our team is prepared to visit you – whenever and wherever it's convenient. We can come to the hospital, visit you in the comfort of your own home, or even sit down with you where you work. You just have to give us a call and ask for help.
What If I'm Blamed For My Head-On Collision in Houston?
First, don't panic. It's a common tactic employed by insurance companies and at-fault parties. Why? Because Texas follows modified comparative negligence rules. This means that:
So, other parties will probably try to shift as much – if not all – of the blame for your head-on crash to you. If they're successful, they can limit how much money they have to pay, or avoid liability altogether.
Don't let these efforts go unchallenged. Fight for what you deserve. Better yet, let our experienced and skilled lawyers fight for you. Attorney Brian White Personal Injury Lawyers will stand up and defend you at every turn. We'll do everything we can to disprove the claims that you share responsibility.
Or, if you do share some of the blame, we'll work tirelessly to minimize your role. The less fault that's assigned to you, the more money you can potentially get at the end of the day.
What Damages Are Available to Head-On Car Accident Victims in Texas?
The costs of a head-on collision can be devastating. Many times, these accidents are fatal or cause catastrophic injuries. The economic costs of these types of crashes, on average, can range anywhere between $96,200 and $1.659 million. That doesn't even factor in the suffering and distress you might very well experience.
When someone else is responsible for your head-on collision accident, they have to be held accountable. Whether that's a negligent truck driver, a transit company, or a car manufacturer, Attorney Brian White Personal Injury Lawyers will help you fight to get all of the compensation you need and deserve. We'll pursue all available damages, which might include money for present and future:
Insurance companies will try to minimize what they think your head-on crash injury case is worth. Don't give them the satisfaction. Attorney Brian White Personal Injury Lawyers will employ whatever time, resources, and legal manpower might be necessary to build a strong, successful claim on your behalf.
We'll investigate thoroughly, conduct extensive legal research, and work with experts throughout the process. Taking the time to do this and using a detail-oriented approach can help us leverage a substantial monetary award on your behalf.
How Long Do I Have to File an Injury Claim After a Head-On Collision in Houston, Texas?
The at-fault party's insurance provider will be the primary source of compensation after a head-on crash in Houston. So, in order to recover benefits from someone else's insurance provider, you'll have to act quickly. Most companies require prompt notice of a crash and that any claims for benefits are submitted within a reasonable period of time. That can vary, based on the circumstances and which company you're dealing with.
If insurance doesn't pan out, or if your injuries exceed what a company will pay, you can file a lawsuit. Under Texas state law, you'll have up to two years from the date of your head-on crash to do so. Note, however, that if you wait too long and don't file within the applicable statute of limitations, you'll be barred from getting any money at all.
Schedule a Free Consultation With Our Houston Car Crash Lawyers
Have you recently been involved in a head-on crash in Houston, Texas? Or, has someone you love died in a head-on collision? If so, contact Attorney Brian White Personal Injury Lawyers for immediate legal assistance.
We might be able to help you seek and recover compensation from the responsible parties. Your first case evaluation is free, so give our Houston car accident lawyers a call today.
Other Types Of Car Accidents
Our personal injury law firm in Houston, TX also handles: